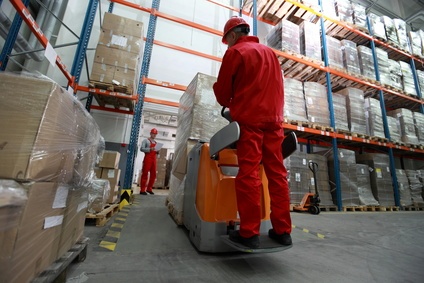 Quality, speed, and cost-efficiency. Those are the three key ingredients in any successful machine shop. If your shop can deliver high-quality products on tight deadlines and with healthy margins, it's likely to be an effective and successful operation.
At Deufol, we operate a machine shop within our Sunman, Indiana facility, which serves as our North American headquarters. Our in-house machine shop serves our packaging customers, but it's also a standalone business. We use it to produce custom tooling and equipment for packaging lines and the shop also performs custom jobs its own non-packaging customers.
Whether you operate an independent machine shop or run an in-house shop as part of a larger facility, you're probably always looking for ways to increase efficiency, quality, and profitability. Consider process mapping your machine shop to achieve those goals. We recently conducted a process map exercise on our shop and it helped us shorten our production times and increase our productivity.


What is Process Mapping?
As the name suggests, process mapping is an exercise in which you identify every process in your machine shop and then document it in a graphical form. The key is to be as detailed as possible and move through the route of every possible product so you capture each task.
For example, your process may start with a request for a quote from a customer. You could then move to the development of the quote, followed by the product design, and more. You follow the path of the project until the final step, which might be delivery of the product to the customer.
The key is to be as detailed as possible in describing each process. What goes into each step? What are the deliverables? What resources are needed to complete the step? Who is involved in each process? What issues could arise? Document all these details to provide a comprehensive picture of each process in your shop.
Once the map is complete, you can review it with your team to identify areas of improvement. You might find redundancies in your process or processes that can be cut. You could find that you have greater quality risk exposure than you realized. Your process map can educate you on weaknesses and areas for improvement that you may not have previously known about.
Why Process Map?
The process map's real power comes from how you use it to implement improvements in your shop. A process map is only effective if you use it to take action. There are three core areas in which you can use your process map to drive positive change in your shop:
Eliminate redundant and wasteful tasks. A common revelation from process mapping is that you have steps and tasks that are redundant. You may price out parts and labor in both the quoting and design stages. Perhaps you perform quality checks more times than necessary. There could be any number of steps in which multiple people are essentially doing the same work.
You can redesign your process map to eliminate the redundancy and the waste. Look for areas to consolidate tasks and minimize the use of resources.
Shorten production times. Speed is an asset in the manufacturing world. If you can produce quality products on tight deadlines, you'll always be in demand. Your process map can help you identify areas that are a drag on your production times.
Again, look for steps that are redundant or unnecessary. Also look for steps that could be done faster if you simply reallocate resources. You might find that you can complete jobs faster, thus allowing you to take on those last-minute and tight-deadline orders you had been turning away.
Reduce quality risks. In today's manufacturing environment, quality is mandatory. Your customers - whether they're other departments in your company or outside businesses - demand consistency and quality at all times.
Your process map may highlight areas in which your products face unnecessary risks. Perhaps one step in your process is causing variation and inconsistency because a piece of equipment hasn't been maintained. Perhaps there are flaws in your engineering and design process, and those flaws are leading to quality issues. Maybe your quality controls aren't as robust as they need to be. Use your process map to identify these issues and take action.
Process mapping takes considerable time and effort, but the payoff can be substantial. You can use it to boost your margins, improve consistency, and accelerate production times. Start your process mapping project today to bring positive change to your machine shop.